Advanced Secure Login & Registration System
Authenticate and manage your website's users with the Advanced Secure Login and Registration System, built with PHP and MySQL.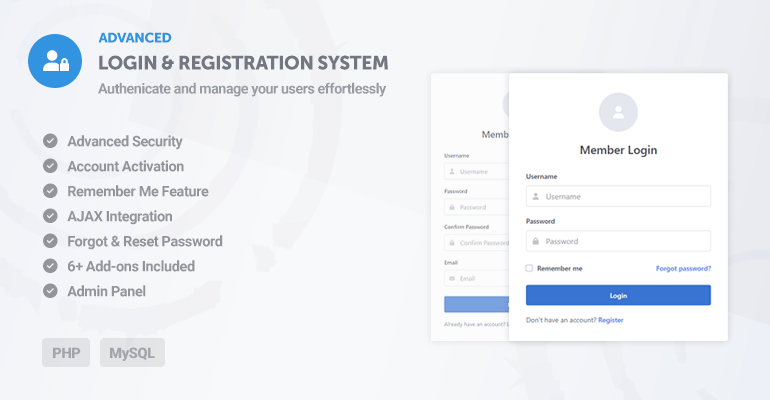 Screenshots
Features
The list of features for this package are below:
Home Portal — Access to the home page immediately after successful login, restricted to logged-in users.
Profile Customization — View and update account details.
Account Activation — Customized activation email will be sent to the user upon registration.
AJAX Integration — The login and registration process will execute in the background on form submission.
PDO Version — Ideal for beginner programmers as this version provides an easy to understand database interface API (for example, you can execute prepared statements without specifying the data types).
MVC OOP Version — Custom-built robust framework using the MVC design pattern. Ideal for those who intend on adapting the system to build large-scale projects. Lightweight and fast performance.
Remember Me — Preserve the login details entered by the user using browser cookies.
Responsive Design — The login and registration system will automatically adapt to any screen size (desktop, mobile device, tablet device, etc).
SCSS File — Preprocessor CSS language that makes writing CSS files more convenient.
Admin Panel

View Accounts
Create Accounts
Edit Accounts
Email Template Customization
Settings

Add-ons (includes instructions)

Forgot Password
Brute Force Protection
CSRF Protection
Two-factor Authentication
Requirements
Apache/Nginx Web Server — We recommend XAMPP for testing on your local environment.
PHP >= 5.5.0 — PHP >= 7.0 is recommended for optimal performance.
MySQL >= 5.1 or MariaDB
Code Editor — PHP files can be edited with Notepad but we don't recommend it, download one of the following instead: Notepad++, Visual Studio Code, or Atom.
FAQs
How do I install add-ons?
Each add-on contains an instructions file (Instructions.html), open this file with your web browser, and follow the instructions.
Why am I not receiving the activation email?
You need a working SMTP mail server and make sure your firewall is not blocking ports 25, 587, 465, 110, etc. This shouldn't be a problem on most hosting providers or Linux servers (built-in email server).
Why am I getting a MySQL error?
Update the connection variables in the "config.php" file, update the hostname if yours is different, and make sure you've uploaded the correct SQL file with phpMyAdmin.
How do I download the ZIP file again if I've lost it?
You can download the package from the receipt email that was sent to you when you purchased the package. If you no longer have this email you can request a new one here. Remember not to share your download links, these are being monitored.
Change Log
Version 1.1.0 09/12/2020
[Updated] the configuration layout and the admin settings page. The "account_activation" constant variable is now a boolean.
[Fixed] major and minor issues with the MVC version.
Version 1.0.9 13/10/2020
[Added] the long-awaited MVC OOP Version.
Version 1.0.8 02/07/2020
[Added] the Two-factor Authentication add-on.
Version 1.0.7 29/05/2020
[Updated] the AJAX code to work without jQuery, jQuery is no longer included.
[Added] the "config.php" file, you can now use this file to update variables instead of updating variables in many different files.
[Added] the "activation-email-template.html" file, the activation email will now be more appealing and no longer basic.
[Added] admin panel, with the admin panel you can view accounts, create accounts, and change settings.
[Added] account roles.
Version 1.0.6 24/04/2020
[Updated] the "remember me" feature, it will now work on multiple devices without being restricted to one device.
[Added] the "resend activation email" feature to the "Activation Required for Login" add-on, the user can request a new activation email.
Version 1.0.5 18/02/2020
[Updated] the registration form and added the "confirm password" feature.
[Added] new add-ons added: Brute Force Protection, CSRF Protection.
Version 1.0.4 03/01/2020
[Updated] the activate page, there is now a user interface as before it was plain text.
[Updated] all add-ons, added an instructions file on how to add them.
[Updated] the user guide, the file is now in HTML format.
Version 1.0.3 06/11/2019
[Added] new add-on: Forgot Password - user will have the ability to enter their email and request a reset password link.
[Improved] some code.
Version 1.0.2 23/10/2019
[Improved] the code for the advanced packages, the connection details can now be changed in the "main.php" file.
[Added] extra params to the mail variables in the "register-with-activation.php" file, this will help prevent the activation mail going to spam.
[Added] code to the "index.php" file that will check if the user is already logged-in, automatically redirect the user if they're logged-in.
[Updated] "index.html" file to "index.php".
[Added] the "Home" button to the home and profile pages in the top navigation bar.
Version 1.0.1 15/09/2019
[Added] responsive design, the system will now automatically adapt to any screen size.
Version 1.0.0 05/09/2019
[Updated] registration and login system.