Advanced Live Support Chat System
Robust and innovative live chat support system that you can implement on any website seamlessly. Powered with PHP, MySQL and AJAX.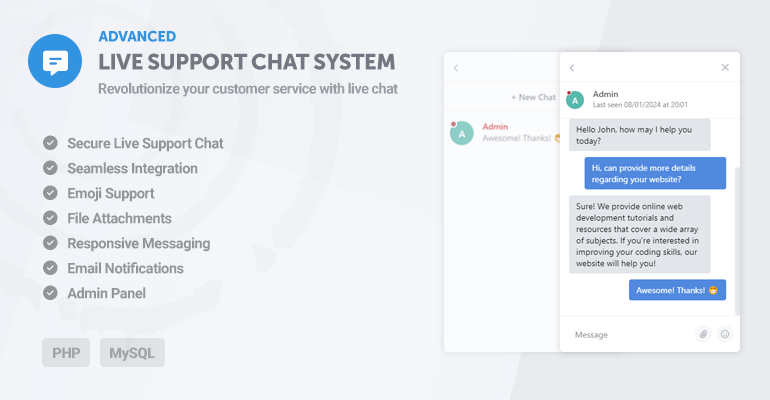 Price
$25.00
Instant download link to the source code immediately after the purchase has been made.
Screenshots
Features
Secure Live Support Chat System Advanced techniques will prevent SQL injection and XSS attacks.
Responsive Messaging Utilizes modern client and server side code for a slick experience.
File Attachments Attach files to messages and download them with a click of a button.
Emoji Support Provide a pleasant experience for your users with the emoji list.
Role Management Admin accounts will have full control over the admin panel while operators will be limited.
User Status Track users and view their current status and last seen date.
AJAX Integration Receive messages in real-time with AJAX. No need to reload the page to check for new messages.
Message Presets Create a list of message presets to use on the fly.
Word Filter Feature Prevent users from sending specific words.
Admin Panel View dashboard, manage messages, accept requests, edit settings, create filters, and more.
SCSS File Preprocessor CSS language that makes writing CSS files more convenient.
Commented Code Will help you understand every aspect of the code.
NO Code Restrictions Full access to the source code and all the files.
Free Updates & Support No time restrictions or limited downloads.
Requirements
Apache/Nginx Web Server — We recommend XAMPP for testing on your local environment.
PHP >= 5.5.0 — PHP >= 7.0 is recommended for optimal performance.
MySQL >= 5.6 or MariaDB
Code Editor — PHP files can be edited with Notepad, but we don't recommend it. Instead, download one of the following: Notepad++, Visual Studio Code, or Atom.
FAQs
Why isn't the chat widget working?
Ensure you've updated the database credentials in the config file and make sure the PHP files are in the same directory as your chat widget file.
I have encountered a MySQL error, what to do?
The database variables in the configuration file must reflect your database credentials. Also, ensure you've imported the advanced SQL file and entered the correct database name.
How do I download the ZIP file again if I've lost it?
You can download the package from the receipt email that was sent to you when you purchased the package. If you no longer have it, you can request a new one here. Remember not to share your download links as these are being monitored.
Change Log
Version 1.0.0 13/06/2022
[Release] the live support chat system initial release.