Advanced Commenting System
The advanced dynamic commenting system can be integrated with any web page, blog, product, etc., seamlessly. Built with JS AJAX, PHP, and MySQL.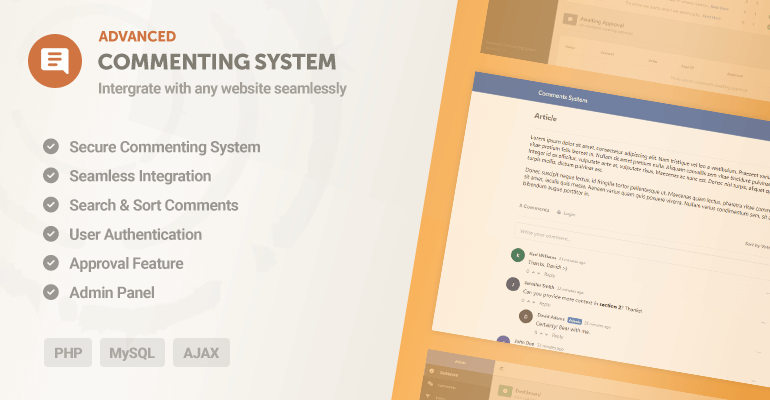 Screenshots
Features
The list of features for this package are below:
Secure Commenting System — Advanced techniques will prevent SQL injection and other known insecurities.
Comment Votes — Users have the ability to vote up and down on comments.
Comment Photos — Users can specify a photo URL when posting a comment.
Sort By Feature — Sort the populated comments by newest, oldest, or the number of votes.
Pagination — Navigate comments with pagination and limit the number of comments on each page.
AJAX Integration — Place comments on any web page seamlessly. Comments are dynamically loaded with AJAX.
Comment Filtering — Add filters and restrict specific words.
Approval Feature — Approve submitted comments via the admin panel before they are visible.
SCSS File — Preprocessor CSS language that makes writing CSS files more convenient.
Commented Code
Free Updates & Support
Admin Panel

Dashboard — View latest comments and statistics
View, edit and delete comments
Approve comments
View, edit and delete filters
Settings
Requirements
Apache/Nginx Web Server — We recommend XAMPP for testing on your local environment.
PHP >= 5.5.0 — PHP >= 7.0 is recommended for optimal performance.
MySQL >= 5.1 or MariaDB
Code Editor — PHP files can be edited with Notepad but we don't recommend it, download one of the following instead: Notepad++, Visual Studio Code, or Atom.
FAQs
Why am I getting a MySQL error?
Update the connection variables in the "comments.php" file, and make sure you've uploaded the correct SQL file with phpMyAdmin.
How do I download the ZIP file again if I've lost it?
You can download the package from the receipt email that was sent to you when you purchased the package. If you no longer have this email you can request a new one here. Remember not to share your download links, these are being monitored.
Comments are not being displayed, what do I do?
Make sure you verify your database credentials and make sure you've specified the "page_id" variable when creating a new instance of the "Comments" class.
Change Log
Version 1.1.0 22/03/2021
[Added] the configuration file (config.php).
[Fixed] a bug with the sorting selection.
[Improved] code commenting.
[Added] the comment approval feature.
[Added] the admin panel.
Version 1.0.2 05/10/2020
[Fixed] an issue with the comment container exceeding the maximum width.
[Fixed] an issue with the comment form not showing for submitted comments.
Version 1.0.1 29/09/2020
[Improved] code.
[Updated] the system to show the comment on form submission, as before the user would need to refresh the page to see their comment.
Version 1.0.0 24/07/2020
[Release] the commenting system initial release.